When it comes to getting your data in and out of ShareMyToolbox, we make it easy with Import and Export options for all of your Items. Whether you have 100 tools or 5000, we can help!

In this article:
Item Import Tutorial
Using our pre-formatted .csv file, importing to ShareMyToolbox is a breeze. Want to know all the details, including required fields and format? Take a look at the following tutorial before getting started:
Item Import
In the Web Portal, navigate to the Items menu.
Download the Template


Next, click on Import Items button on the top right of the page.

The first thing you'll want to do is download our pre-formatted .csv template file.
Click on Import items template to download to your computer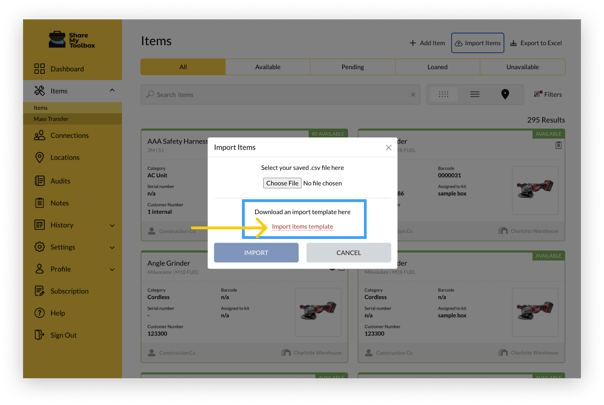 Caution: This template must be used for bulk Item import. You can enter one Item at a time in the file, or paste from another source as long as the columns and formatting is retained.
Populate Template
Fill out the template file and save as .csv file on your computer.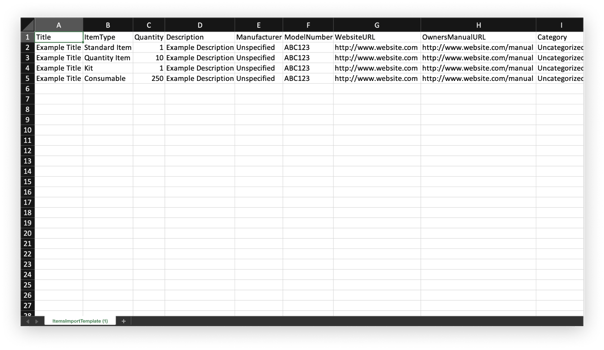 Template Fields
For a complete overview of the template, required fields, formats and more, we recommend watching the Import Items Tutorial above.
Title
ItemType
Quantity
Description
Manufacturer
ModelNumber
WebsiteURL
OwnersManualURL
Category
PurchaseDate
PurchasePrice
WarrantyDate
SerialNumber
Barcode
IsRentalTool
RentalStartDate
RentalEndDate
CustomRentalRate1
CustomRentalRate2
CustomRentalRate3
CustomRentalRate4
CustomDate1Value
CustomText1Value
CustomURL1Value
CustomDate2Value
CustomText2Value
CustomURL2Value
ReturnWarehouse
Last Audit Date
Last Audit Condition
Vendor
Import Template
To import, simply return to the Items tab and click on the Import Items button.
Select Choose File button and navigate to your completed template .csv file you saved
Click Import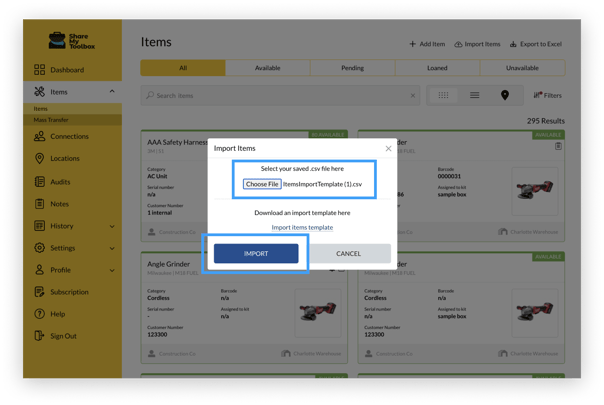 Tip: Send your Import template to us for review. We are glad to help out!
Warning: Importing is an ADD TO and not REPLACE. If you import the same Items twice you WILL double the number or items.
Tip: Start small. Practice importing with 10 Items. Keep it narrow such as an Import by Employee or Location.
Caution: If you are importing by Employee or Location, do NOT import quantity items. Do those separately and then loan them. You will end up with the same item with multiple records.
Don't worry! If you import 5000 items and realize you want to change something, call us and we can mass delete your data and you can re-import.
---
Item Export
ShareMyToolbox gives you the ability to Export your Items in Excel format. To get started, go to the Items menu.
Export All or Filtered List
You'll have the ability to Export your entire Items database, or you can perform a Search / Filter and just export filtered records. For example, if you want a list of Items currently Loaned, click on the Loaned tab and then click on the Export to Excel button in the top right.

When you click on the button choose Export filtered list or Export all.
Next, click EXPORT.
ShareMyToolbox will download an Excel file to your computer.
Note: Why Excel and not csv? By giving you an Excel file, we're able to automatically add sort and filter options to the header row, giving you the ability to further analyze your Items right in Excel.