Connections are simply the people you want to have in your ShareMyToolbox network. With Connections, you'll be able to see each other's Items and request to Borrow from each other. A connection can be a friend, neighbor, or a co-worker.
This article will cover how to add and manage your Connections in ShareMyToolbox.

In this article:
How to Add a Connection
How to Remove a Connection
How to Add a Connection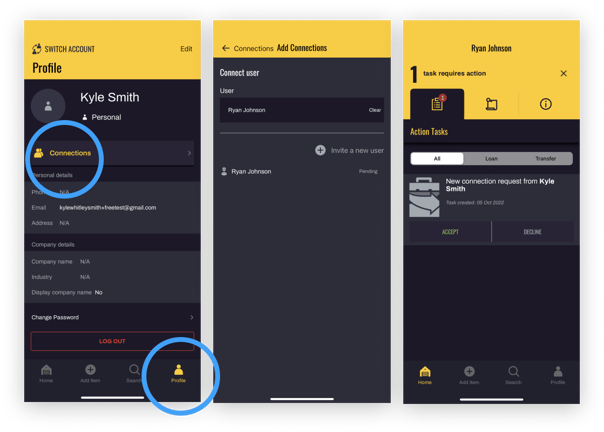 First, tap on Profile in the Menu.
Then, tap Connections.
If the other person already has ShareMyToolbox then you can search for them, or tap Invite a new user and we'll send them a link to get the app. Once they have the app you can then search for them to send the invite.
Your friend will get an Action Task notification in their Home tab to Accept your request. Once they accept, that's it! You are connected and can view each other's Items.
Note: The ShareMyToolbox free version of our app offers you unlimited Items and up to 4 Connections. Need more Connections? Upgrade to Enterprise and get unlimited Connections and so much more!
How to Remove a Connection
First, tap on Profile in the Menu.
Then, tap Connections.
Tap the Name of the Connection you wish to Remove
Tap Disconnect