ShareMyToolbox allows you to categorize your Items in many different ways, and we make it easy to search based on the categories or status. Searching for Items makes it possible to easily take action on these Items, either one-by-one, or in bulk.

In this article:
Item Search Tutorial
Search for Items
Filter Results


Item Search Tutorial


Search for Items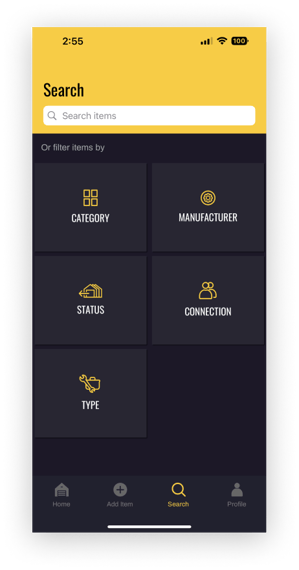 To start a new Search, tap on the Search option in the bottom navigation bar.
Here, you can easily tap a pre-defined Search Filter to view Items by:
Category
Manufacturer
Status
Connection
Type
You can also use the Search bar at the top of the page to find what you're looking for, and we'll deliver the results in real-time as you type.
ShareMyToolbox uses the following fields when returning relevant results to your text search:
Title
Description
Manufacturer
Category
Barcode
Note: Currently the Search filter of Type will only return all Items for Free users of ShareMyToolbox. To be able to use more item types, including Quantity Items, Kits, and Consumables, upgrade to our Enterprise plan.
Filter Results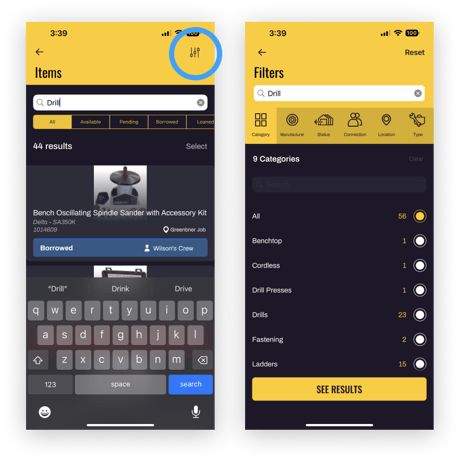 When conducting your Search, you can further filter your results to create a new group of results.
For example, if you type "Drill" in the Search box and it returns 5 results, you can then tap on the Filter icon to further filter that list by Status, Connection, Manufacturer, or Category.
Tip: By using the Category field on Item setup, you can take advantage of our powerful search. Categorize your Items the way it makes sense to you, then easily filter your Items by Category.
Tip: On the Home tab, tap on any of the status cards to see a Search results view that is automatically filtered by that particular status.